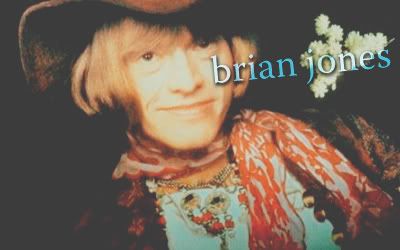 Brian Jones
was a founding member of The Rolling Stones and was one of the most influential style icons of the 1960s. Brian was one of the first figures in popular culture to make is acceptable for men to wear jewelry and flamboyant costumes, a suit later followed by contemporaries such as Jimi Hendrix and Rod Stewart. A multi-talented musician, Brian would easily become bored with an instrument and quickly move onto the next, and his chaotic and beautiful spirit was evident in the kind of clothes he wore and the way he presented himself. Brian was a very self-destructive individual and on July 3rd 1969 he drowned in his pool becoming the first member of the 27 Club. His presence and style still leave a big impact on both today's music and fashion.
With the Rolling Stones.
In The Rock and Roll Circus.
In drag with the Rolling Stones, and he's totally selling it too.
With girlfriend Anita Pallenberg.
Resources:
Corbis
,
Brian Jones Fanclub
,
Who's Dated Who
,
Enewsi